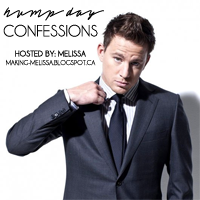 I HEARD A BAD RUMOR that humpday confessions were no more. As it turns out like 75% of all rumors**, this particular one was true. While it's sad that Kathy has discontinued her blog & along with it the salacious humpday confessions, I think we'll all be very happy together along with Mr. Tatum over at our new home - Making Melissa.
FIRST I MUST
confess that I have no idea when Kathy discontinued her blog or the linkup & for that I kind of feel like shit. I've been a
bad blogger
nonexistent, almost not a blogger at all. I haven't even done anything on my studio blog since mid-August.
IN FACT THE
last time I blogged here (save my mini splash back yesterday) was for a little mid-week confess sesh in August. That was like 4.5 months ago, incase you didn't feel like math-ing today.
SURPRISINGLY ENOUGH
, or maybe not so, not a whole lot has changed with me except maybe my caffeine intake. I'll give you one guess which way that went. Here's quick hint: it didn't decrease. I drink more monsters & coffee than any human should.
I'M WRITING THIS
as I wait for my lunch to cook. I eat more boxes of zucchini crisps in a week than anything else. They're so freaking good. With a little sour cream. NOMS.
I'M BINGING Gilmore Girl's currently while I work. Sometimes it gets so lonely there by myself.
I'M ALSO PROCRASTINATING
editing lots of images & designing things. Blahh.
I'M EATING
Butterfinger Bites & they are remarkably unsatisfying. They sounded so good, I drove to the gas station solely to buy them. And even though I feel this way, I continue to eat them.
I DELETED DISQUS
because it was kind of a pain in the ass. What I didn't anticipate was the even bigger pain in the ass it would be to get my comments back to the Blogger format. So now, I'm just missing comments. I think I can deal. Even though I really liked reading all of the nice things everyone posted.
Hope your having a fantastic week! MWAH
**this statistic is completely fabricated.